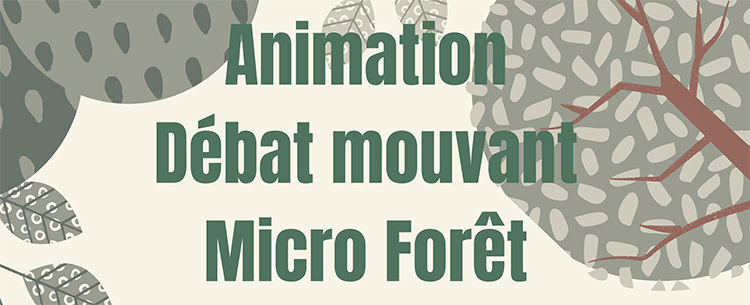 Since December 1st, a Geocaching adventure has been set up in the heart of the micro-forest on the Bourget campus. A challenge proposed by Soizic Toucheboeuf, a student in a professional degree "Agroecology and transition in mountain areas" at the UFR Sciences and Mountain. This is an opportunity to discover a lot of information about biodiversity, the role of trees, the specificity of the micro-forest, etc.
In addition to this animation, Soizic proposes a moving debateThursday, December 8, from 11:30 am to 1:30 pm, in building 4B, room 38. A moving debate, but what is it? It's a little exercise in reflection and argumentation: Soizic will propose statements about the micro-forest, and you'll have to decide whether they are right or wrong. In your opinion, does the micro-forest play a role in phyto-treatment? Answer and discussion this Thursday!
GEOCACHING RULES
Pen and paper in hand, direction the micro-forest of the Bourget-du-Lac campus. No need for a GPS or an application, your curiosity and your brains are enough to participate. The 1st clue is on the sign in front of the micro-forest, located in front of building 6 EVE. From there, it's up to you! Go on an adventure through nearly 50 different varieties of plants and discover the richness of the micro-forest's biodiversity!
Geocaching is a treasure hunt with GPS, but as we explained above, you won't need it for this one. Just a pen and paper! Everything is indicated in the boxes that have been subtly hidden by Soizic. You will find riddles that you will have to answer to find the famous treasure. Once discovered, put the boxes back where you found them, it's important for the next players to participate!
This game is played independently and freely. You can play it at any time of the day, solo or in teams!
Any question ? Contact Soizic !