Wellness Workshop - Meditation (block of 3 sessions) - Annecy Campus
November 30, 2022 / 6:00 PM

-

7

:00 PM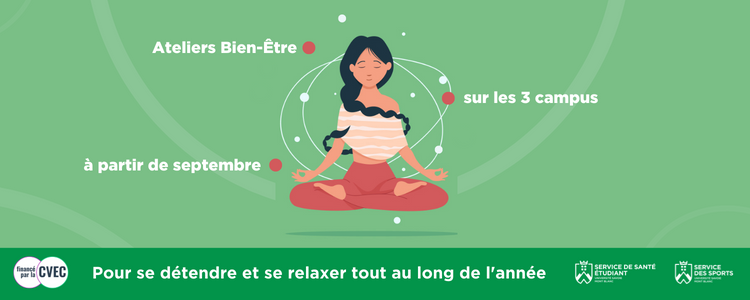 Feeling good in your head, feeling good in your sneakers. To stay zen throughout the year, the Student Health Service (SSE) and the Sports Service (SDS) of the USMB offer you a multitude of activities as part of the Well-Being workshops. Do-In, Yoga, Mindfulness, Run&Yoga, Qi-gong, Tai-Chi, etc., make your choice!
Financed by the CVEC, these workshops are open to all USMB students and to IFSI students from Chambéry and Annecy. Please note: the number of places per session is limited, so don't delay in registering for the activities that interest you! Registrations are open until the day before the workshop, at 4pm.
Meditation Session
Meditation is a practice that aims to give a break to our mind and the ideas it generates. Not only does it sharpen our attention span and reduce obsessive-compulsive disorders, but it is also recommended to fight stress and anxiety.
The workshop will take place over 3 sessions from 6pm to 7pm at the Salle de la Tournette at the BU, on the Annecy campus.
By registering, you agree to come on the following dates:
- Session 1: Wednesday, November 30
- Session 2: Wednesday, December 7
- Session 3: Wednesday, December 14
Number of places for the workshop: 15
Contact : Vincent Legras