Writing workshop - Writer Nicolas Fougerousse shares his tips! - Bourget Campus
October 26, 2022 / 6:30

pm -

7:30 pm

Free
Thanks to its partnership with the association Lectures Plurielles, the USMB offers you writing workshops led by well-known authors. On Wednesday, October 26, writer Nicolas Fougerousse will share his tips and advice with you. Beginners or experienced writers, let your pen express itself for an evening! See you at the University Library of the Bourget-du-Lac campus at 6:30 pm.
The workshop will also take place on October 19 on the Annecy campus and on October 25 on the Jacob-Bellecombette campus.
A workshop exclusively reserved for USMB students and students from the Institut de academics en Soins Infirmiers (IFSI) in Chambéry and Annecy. An action financed by the Contribution to Student and Campus Life (CVEC).
WHAT IS A WRITING WORKSHOP? 
Creative writing workshops are spaces of freedom, conviviality and literary production. Composed of a small group, gathered in the same space, and supervised by a facilitator, they consist of a set of writing games. The specificity of the writing workshops is to offer oneself a time dedicated to creation, without judgment, without stakes, in the simple necessity to name what one does not say, to give substance to one's imagination and to express one's singularity through words.
ABOUT THE WRITER
Born in 1979 in Annecy, Nicolas Fougerousse now lives in Chambéry. He has been writing since the age of 17, sometimes on top of the mountains. In 2007, he created the Éditions Alphabet de l'espace, a publishing house specialized in poetry and wrote more than a hundred poems in the space of ten years. He published his first novel in 2016, "She who wrote poems on top of mountains", a novel of personal development that will be followed by "Pour into your heart the beats of mine", and "Listen in us the echoes of the Earth that cries . Released in 2022, the fictional novel "Lueur glaciale" is an ode to motherhood where feelings, emotions and survival are mixed in the heart of a high mountain landscape. Alpinist and cross-country skier, Nicolas Fougerousse likes to dive there regularly. Under his pen, the shadow of the mountains takes shape, sometimes benevolent, sometimes threatening, often bewitching. The creaking of crampons biting into the ice, the deep silence of the night, the feeling of emptiness in the back... the writer shares with his readers, with simplicity, the most insignificant sensations experienced by the mountaineers.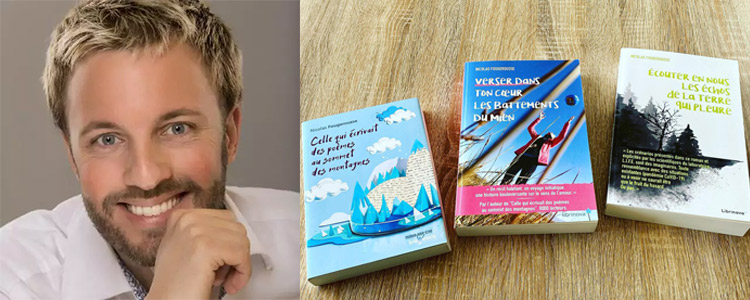 For more information, please contact Student and Campus Life Service (SVEC) - 04 79 75 94 15