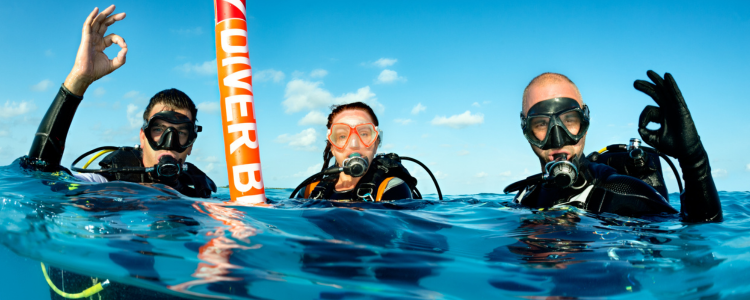 Put on your wetsuit and discover Lake Annecy! Descend into the underwater depths and observe crayfish, pike and trout. Meet us for your first dive on Saturday, October 7 in Lake Annecy.
Not available? A first outing is organized on Thursday, October 5, on Lac du Bourget.
Scuba dive in a magical place and change dimension to discover a universe populated by atypical flora and fauna. You'll discover the total silence that envelops you once underwater, accompanied by your diving instructor.
COURSE OF THE DAY
You attend a briefing during which the activity is explained and you are reminded of the safety rules.
You familiarize yourself with the equipment loaned to you for the occasion: fins, regulators, wetsuit, tank and lead belt.
You'll learn a few signs that you can use underwater to communicate with your instructor.
Your first dive takes place at a depth ideal for observing the most beautiful fish.
Once back on board, you can debrief your experience with the dive team.
It's easy to sign up : visit your sports area from September 22.
Please note: places are limited, so don't wait to sign up!
PRACTICAL INFORMATION
- Level: for beginners
- Equipment provided: wetsuit, tank, regulator, fins, lead belt.
- Price: student 15€ / staff 35€ (equipment and supervision)
- Meeting point : Saturday, October 7 at 1:30pm in Talloires (Lake Annecy) - 233 route du port
Contact: Olivier Freschi