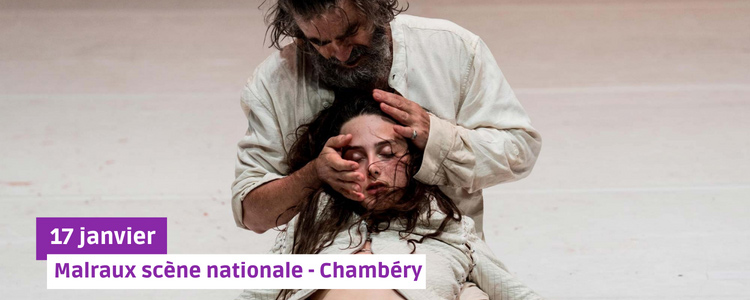 Thanks to its partnership with theEspace Malraux Scène Nationale (Chambéry) and within the framework of its collaborative project "Égalité", the USMB invites you to attend, free of charge, the show "Billy's violence the Tuesday January 17 at 8pm. Free seats are available, exclusively reserved for USMB students and students from the Institut de academics en Soins Infirmiers (IFSI) of Chambéry and Annecy. This action is financed by the Contribution à la vie étudiante et de campus (CVEC).
A show chosen specifically as part of the promotion of equality at the university, to bring reflection on gender-based and sexual violence (GBV) through the cultural and historical prism.
Caution: some scenes may touch on sensitive subjects, the staging chosen may shock an uninformed public (violence, nudity). 
I PARTICIPATE!
Interested in the event? Register easily by clicking on "I register" at the top of this page and by filling in all the required fields. You will then receive an email that will validate your registration.
If you are no longer able to come to the event, you can unsubscribe at any time using the link received in this email. Your unsubscription is important because it will free up a seat for other students interested in attending this performance.
ABOUT THE SHOW
Shakespeare as you've never seen him before, stripped, dismembered, dismembered... Ten tragedies reduced to the essential, ten cruel portraits of women, ten stories of intimacy where love, desire, power and hatred intertwine. With its unique signature, practicing a theater where the body and the song have as much place as the text, the Needcompany delivers a total theatrical object that will follow you for a long time. The minimalist scenography and the music of Maarten Seghers underline the loving brutality of the text and the physicality of the play.
This show is based on Shakespeare's plays, the most performed author in history, many of which are almost impossible to stage because of their violence, atrocities, racism and misogyny. Yes, that's how it is in Shakespeare. This centuries-old global burden of violence against women is transformed into a fictionalized version that places women as both sacrificial beings and avenging goddesses. This play leads us to question: What does violence mean in art today? Why do we like to look at it so much? Do we look at violence differently today than in the 16th and 17th centuries?
Jan Lauwers (director): "I'm more and more convinced that we have to find another way of thinking that shows that everyone is against violence. We think that everyone is bad, but that is not true. The majority of people are not violent, there is a great solidarity. If we go back through history - and here I always cross paths with Shakespeare and his tragedies - we might find something there."
Show performed in English, with French surtitles.
For more information, please contact Student and Campus Life Service (SVEC) - 04 79 75 94 15