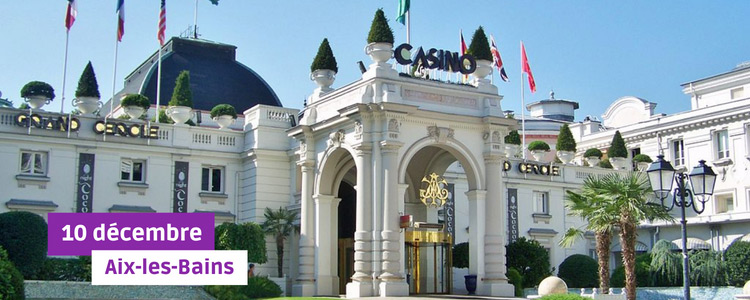 Thanks to its partnership with the Art and history department of the city of Aix-les-Bains, the USMB offers you a exclusive visit of the city. Saturday, December 10th, from 10am to 12pm, discover the city of Aix-les-BainsAix-les-Bains Aix-les-Bains : from the Roman heritage to the current palaces, the opportunity to meet other students of the university while piercing the secrets of this city labeled City of Art and History since 2014. On the program: the palaces of the hillsides, then down to the city center for a glimpse of the Roman period with the temple of Diana and its archaeological collection and end with the Casino Grand-Cercle.
A guide will lead the visit and answer all your questions.
This visit is organized exclusively for USMB students and students from the Institut de academics en Soins Infirmiers (IFSI) in Chambéry and Annecy. This action is financed by the Contribution à la vie étudiante et de campus (CVEC).
Meet at 10am at 31 rue Georges I in Aix-les-Bains for the start of the tour.
I PARTICIPATE!
Interested in the event? Register easily by clicking on "I register" at the top of this page and by filling in all the required fields. You will then receive an email that will validate your registration.
If you are no longer able to come to the event, you can unsubscribe at any time using the link received in this email. Your unsubscription is important because it will free up a seat for other students interested in attending this performance.
To get there, nothing could be easier: by train (TER) from Annecy or Chambéry, or by bus (SynchroBus and Ondea).
For more information, please contact Student and Campus Life Service (SVEC) - 04 79 75 94 15