Donation : let's give a second life to our objects and clothes ! - With the association "Univert
February 1 / 11:30 am

-

1

:00 pm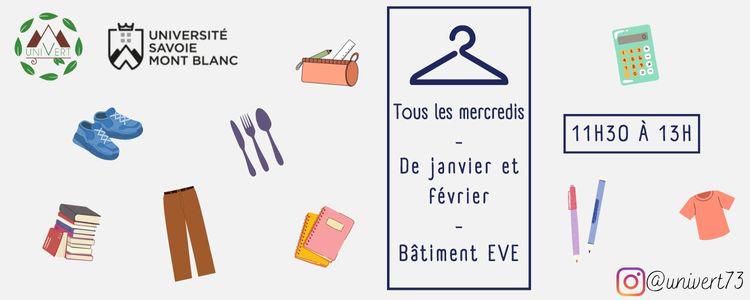 Our current society is based on abundance and overconsumption. We buy more and more, we consume more and more and we produce huge amounts of waste. Recycling can be a solution but it is still not used and developed enough nowadays. To limit our purchases and therefore our waste, let's share and exchange our objects to give them a second life or even several!
The Univert association is setting up a donation shop on the Bourget-du-Lac campus so that students and staff can drop off and/or pick up clothes, shoes, books, course material, tableware or dishes. Please note: electronic items will not be accepted.
The donation will take place every Wednesday from 11:30 a.m. to 1:00 p.m. in Building 6 (EVE), from January 18 to February 22, 2023.
I WANT TO GIVE!
Collection points have been set up at the BU, at the Pôle montagne, between the Revard and Nivolet amphitheaters (building 8) and in the Espace Vie Étudiante (building 6 EVE). Do you have items that you no longer use and that are gathering dust in your closets? Give them a second life and drop them off in the boxes installed at the collection points throughout the week or directly at the Donnerie stand on Wednesdays!
CAN I TAKE ADVANTAGE OF IT?
Of course, the entire USMB community is welcome! Come give your wardrobe a "makeover" and adopt the items you need. We're sure you'll find something you love at our booth 🙂
WHAT IS UNIVERT?
Univert73 is an association committed to sustainable development and ecology. Its goal is to revitalize the Bourget-du-Lac campus and to raise awareness about environmental issues. Univert organizes film-debates, conferences with researchers, has set up a shared garden on campus and organizes waste collection.
And if you want to help us don't hesitate to contact us on Instagram or by email: asso.univert@gmail.com