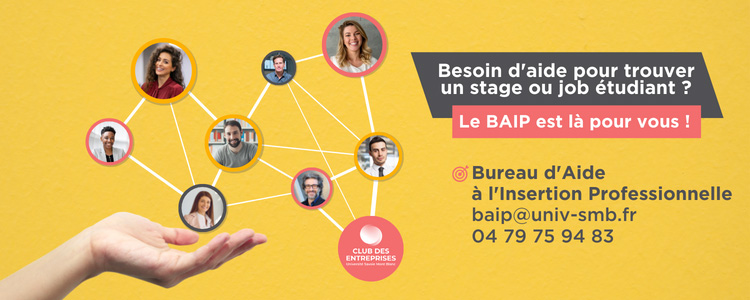 In order for your internship to represent a real added value on your CV, it is important to choose it well. And you need to learn how to look for an internship effectively. Looking for an internship requires method, from writing your CV to preparing for the recruitment interview. The same goes for the job search.
In order to understand the expectations of recruiters and to prepare you for your entry into the job market, the advisors of the USMB's Bureau d'Aide à l'Insertion Professionnelle (BAIP) offer you individual interviews of 1 hour on Wednesday, December 7 and 14 on the Annecy campus.

How can I benefit from personalized support?  
Nothing could be easier! You just have to send an email to baip@univ-smb.fr as soon as possible indicating the point(s) you would like to discuss with the consultant as well as your availability on December 7th or 14thbetween 8:30 and 11:30 am and between 1:30 and 3:30 pm.

The counselor will suggest a time slot and all you have to do is come to the BAIP office located on the first floor of the Ferme du Brayjust behind the BU.
Don't hesitate to come with your CV, a cover letter or even an offer you have already found!
Not available on these dates? The BAIP also accompanies you throughout the yearDo not hesitate to come and meet them.