Are you fascinated by the universe and galaxies? Are you curious about the consequences of space travel? La Turbine Sciences, in collaboration with Annecy's media libraries, invites you to discover all aspects of space exploration with "La Nuit Européennes des Chercheurs" (European Researchers' Night ) on September 29 at La Turbine Science from 4pm.
Away from the institutional framework of the university and its research laboratories, come and meet our local researchers! A unique opportunity to talk with scientists from all disciplines, on the theme: "Space: a fabulous adventure? Workshops, lectures, mini-conferences, exhibitions, walks: an evening to exchange, learn and debate about space, its exploration and exploitation.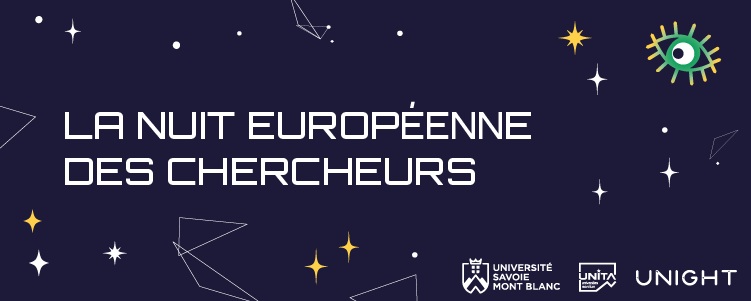 ON SCHEDULE

4pm - Inauguration of the "En avant... Mars!" exhibition
Take part in the ribbon-cutting for Turbine sciences' new exhibition and the opening of the new season!
4:30 pm - Author talk - Médiathèque La Turbine Espace Adulte
Annecy's media libraries invite you to an author talk on the theme of science fiction. With Sylvie Poulain, science fiction and fantasy author.
From 6 p.m. - Mini-conferences open to all
6 p.m. - "Mars: the final frontier? "
Debate moderated by Luca Montabone (Paneureka, Le Bourget-du-Lac), PhD in geophysics and Mars meteorology researcher.
Will Mars be mankind's last frontier after the Moon? An interactive conference on why mankind wants to go to the Red Planet. Scientific reasons, of course, but also linked to the future of our civilization, planet Earth and the geopolitical context.
6:45pm - "On Mars, but with what muscles?"
By Mathias Velarde, PhD student in biology at LIBM (Laboratoire Interuniversitaire de Biologie de la Motricité), Université Jean Monnet Saint-Etienne.
Having trouble getting up in the morning? Earth's gravity is to blame! Every day, we struggle against gravity to stand or even sit upright. Astronauts, however, are in a weightless environment and no longer make this essential effort. So what happens to their muscles? Will our astronauts still be able to stand up on Mars?

At 7.30pm - "Space and the law: a new Wild West?"
By Jean-Marie de Poulpiquet, lawyer and doctor of space law, Annecy.
The ultra-rich are taking part in an increasingly frantic race to conquer space. Does this money give them full power? Should there be limits?

9pm - "Newspace, space exploration and debris".
By Mathieu Barthélémy, teacher-researcher in astrophysics at IPAG, Université Grenoble Alpes.
Newspace is a new way of thinking about space: faster, lighter. While this has many advantages, the multiplication of launches poses major pollution problems. What are the associated risks? And how can we take these issues into account?

9:45pm - "Living in weightlessness is not without gravity!"
By Alain Guignandon, teacher-researcher in biology at LBTO, Université Jean Monnet Saint-Etienne.
According to science-fiction stories, space would be a source of life: aging would slow down! The reality is quite different: the longer our astronauts spend in space, the more their health deteriorates. Why is a gravity-free environment so hostile to our bodies? How can what we learn up there be useful on Earth?
At 10:30pm - "Is there a Planet B for the future of humanity?"
By Fabien Malbet, CNRS researcher in Astronomy and Astrophysics at IPAG, Université Grenoble Alpes.
Since 1995, over 5,000 planets have been detected around other stars. Astronomers are now in a position to assert that there is at least one planet around every star in our galaxies, some of them capable of harboring water. This raises the question of the probability of extraterrestrial life, but also the possibility of hosting terrestrial life forms. Should we believe in a Planet B for the future of humanity?


Throughout the evening
The exhibition of curiosities
Have you been too shy to ask the researchers your questions, or are you very curious about the talks to come? Meet them, before or after their public talk, in a relaxed atmosphere.
What's going on in your head?
The A Seconde Vue association invites you to play with your brain. Puzzles, experiments, illusions and other activities to amaze and understand a little better how the human mind works, and to develop critical thinking skills.
En avant...Mars!" exhibition tour
Set off on an astonishing imaginary journey to Mars, in an immersive scenography where manipulations and games have their place. Spend a moment with our mediators and don't hesitate to chat with them.
Corner UNITA
Discover UNITA, an alliance of six European universities, includingUniversité Savoie Mont Blanc. Launched in November 2020, this network promotes a new form of cooperation on a European scale. With UNITA, Europe invites itself into our territories.
Practical information
- La Turbine Science, Place Chorus, Cran-Gevrier, 74960 Annecy, France
- Mail and telephone contact: 04 85 46 74 30