Reading Night "Même pas peur!" - Discover the complete program of the Jacob Campus
January 19 / 12 h 00 min

-

19 h 00 min

Free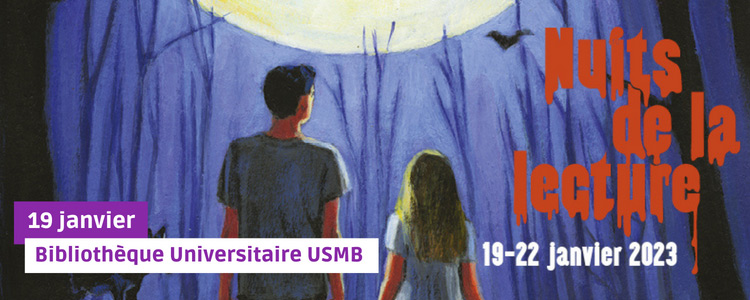 On the occasion of the 7th Reading Nights, whose theme this year is "Fear", youryour University Library (BU) welcomes you for a thrilling evening Thursday January 19th ! Music, reading, improvisation, mini-conference: will you dare to defy your fears thanks to the different workshops offered?
This evening is offered by the University Libraries and the SVEC, in collaboration with the association Lectures Plurielles and Quart d'heure insolite. This event is financed by the Contribution à la vie étudiante et de campus (CVEC).
ON SCHEDULE
12pm-1pm - Unusual quarter of an hour: fear!
It's 10:45 pm, the moon is high in a starry sky and its light illuminates your windowsill. You are quietly sitting on your sofa, watching your favorite series. When suddenly, a shrill creaking sound comes from your wooden cabinet. "It must be the wind." But we're inside and the doors are closed. "No but it's an old cabinet." Except you bought it less than a year ago from a famous Swedish furniture brand. "It must have been in the show." Except the credits roll on a black screen... Okay, we get it, creepy moment! But in fact, what is the fear concretely? Answer with a special Quarter of an hour "Fear!", a mini-conference shifted and ludic to learn a little more about this emotion which makes us sometimes tremble.
4:45-5:45 pm - Workshop "Quick Tips for Reading Aloud"
[Registration required]
Have you ever had that dream where you find yourself in front of a full house with a presentation to make and suddenly your brain goes on pause? It's panic, your body freezes, the words don't want to come out, you think you've completely forgotten the text you knew by heart only 5 minutes ago. Thanks to the workshop "Express tips for reading aloud", discover the techniques to place your voice, position yourself or even position your eyes.
CANCELLED - 5:45-6:00 pm - Break "Music and Goosebumps
Something to make your ears tingle before the next workshop!
CANCELLED - 6pm-7pm - Read aloud and improvised reading: listen and shiver!
"They're floating," said the clown. Down below, we all float. [...] Come float with us." This legendary sentence from Stephen King's novel "It" is surely the source of many a nightmare! Just to give you a shiver, join the "Reading aloud and improvisation-reading" workshop for a moment of shared fear. Let yourself be carried away by the readings proposed by the Lectures Plurielles speakers or start an improv-reading in your darkest and most frightening voice possible to make the audience jump!
About "Reading Night 
Established since 2017 by the Ministry of Culture, "Reading Night" is a cultural event that highlights reading in all its forms, of course, but also libraries, media libraries, bookstores and the entire network of cultural facilities of proximity around extraordinary night activities. On this occasion, libraries, media libraries and bookstores compete in ingenuity to make reading a game and receive a wide audience around literature in all its forms. In 2021, despite the health crisis, more than 2000 events in France and in about thirty countries have been proposed!
For more information, please contact Student and Campus Life Service (SVEC) - 04 79 75 94 15