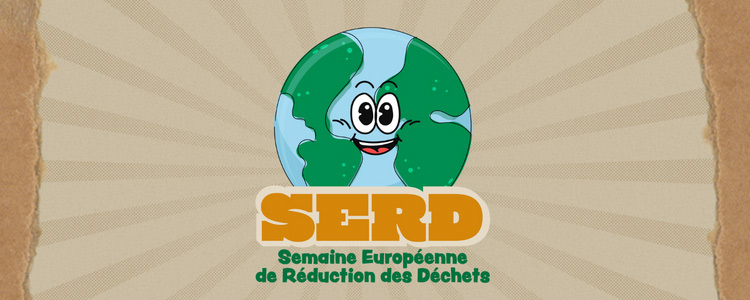 Creative workshops for making tote-bags/dishwashing soap/laundry detergent/spreads, documentary film screenings, distribution of sustainable menstrual protections, and a donor clinic, etc.his year again, the USMB's European Week for Waste Reduction (EWWR) offers you a rich and varied program on your 3 campuses !
Organized at the university from November 21 to 25 by the Student and Campus Life Service, UNITA, the Student Health Service, the Crous Grenoble Alpes and several student associations of the USMB, the EWWR informs you about good practices to consume better, produce better, extend the life of products and especially throw away less!
THE PROGRAM ON THE ANNECY CAMPUS
This week, we put our hands to the dough to reduce our waste! Literally, since you will learn, among other things, how to make your own spread, guaranteed without palm oil. Among the many workshops and activities offered on your campus, there are :
The "Donnerie" space




every day - 11h30-13h30 / Hall of Polytech



Did you know that? The fashion industry is one of the most polluting in the world, emitting more greenhouse gases than international flights and maritime traffic combined. As clothes are sold at attractive prices, we tend to buy more of them than a few years ago and keep them for less time. Your look therefore has a direct impact on the environment! To refresh your wardrobe without heating up your credit card or your planet, take advantage of the free donation service. Clothes, hats, scarves, bags: make your choice among the numerous items collected on campuses and in CROUS residences these last weeks!
Want to give a second life to your clothes? You can also drop off your clothes and accessories and exchange them with other items that will be available during the donation.
Furoshiki / Sewing / Spreading dough workshops


(Bring your clothes/accessories to personalize for the sewing workshop)




Monday, November 21 - 12:30-1:30 pm / Polytech Hall
A Japanese fabric folding technique, sewing needles and toast. At first glance, these 3 workshops don't have much in common. And yet, they all participate in preserving the environment in their own way.
Put away your glue and tape, choose the fabric that inspires you and become a master of Furoshiki ! This folding technique, originating from a Japanese tradition that goes back more than 1200 years, is theideal alternative to gift wrapping paper. A rather stylish know-how that allows you to offer your gifts in an original and eco-responsible way. You can even make your furoshiki a gift in its own right by using a scarf for example. No need to come with your fabric, we provide you with everything you need during the workshop.
Express your creativity and your fashion tendency by customizing your clothes and textile accessories thanks to theSewing workshop . Bring your kit, your bag, your t-shirt and leave with unique pieces thanks to the tips and know-how of a speaker present especially for the occasion. All sewing equipment is provided on site!
Gourmets and environmentally conscious people, thespread making workshop is made for you! A 100% palm oil free recipe, easy to make, that will tickle your taste buds during the tasting that follows the workshop.
Distribution of free durable menstrual protection




Tuesday, November 22 - 12:30-1:30 pm / SSE - Entrance H of the IUT building
Every year, more than 45 billion pads and tampons are thrown away worldwide. It takes about 500 years for these products to degrade, which is as long as a plastic bottle. Fortunately, sustainable menstrual protection exists! For the EWWR, the Student Health Service (SHS) is organizing a distribution of menstrual cups and washable pads. No need to register, just come and pick up your pack from the Student Health Relay during the office hours.
Broadcast of the documentary "Demain Annecy


Tuesday, November 22 - 18h30-20h45 / Amphi 052 at IAE

Inspired by the film "Demain" by Cyril Dion and Mélanie Laurent, the documentary "Demain Annecy" offers a positive vision of the future of our region and a glimpse of what the Annecy basin could look like in the very near future. The filmmakers went to meet the local actors of change, men and women who bring to the Annecy basin local and concrete solutions in all areas of our daily lives: food, energy, housing, education, mobility, economy, to reinvent a way of living together, a world more united and respectful of the living.
The screening will be followed by a discussion on the theme of the film with members of the production team.
Tote-bag / Laundry making workshops




Wednesday, November 23 - 12:30-2:00 pm/ IUT Hall
The reuse of clothes is a real solution to reduce your carbon footprint. You have old t-shirts and you don't know what to do with them? Don't throw them away, turn them into eco-responsible bags thanks to our tote-bag workshop! You don't even need to take out the sewing machine, nor thread or needles, and you don't even need to bring your t-shirts, our facilitator will take care of everything and explain how to transform a t-shirt into a fun and sustainable bag.
An egg from the market explodes in your brand new tote bag? Wash it with an ecological detergent, more respectful of the environment, thanks to a home-made detergent recipe! We explain how to make your own product in the laundry workshop, and thus contribute to the fight against pollution caused by industrial plastic packaging and toxic products that are discharged into the water.
Workshop to make dishwasher tablets / Waste reduction awareness stand




Thursday, November 24 - 11:30 a.m. to 1 p.m. / Polytech Hall
Washing dishes with healthier products also means eating healthier. Indeed, most of the household products sold in stores have ingredients that can have an impact on the environment but also sometimes on your health! Thanks to thedishwashing tablets workshop, get all the tips you need to make your own recipe and leave with your sample.
After or before making your soap, stop by the Annecy city stand to learn more about the eco-gestures you can do on a daily basis to reduce your carbon impact.
WHAT EXACTLY IS THE SERD?
Coordinated in France by the ADEME (Agency for Ecological Transition), the European Week for Waste Reduction is a "high point" of mobilization during the year to highlight and spread good production and consumption practices that go towards waste prevention.
We talk a lot about the figures of food waste and yet, those of fashion and textile are just as alarming! This is why the European coordination of the EWWR has chosen to commit itself for its 2022 edition, in favor of a circular and responsible textile sector.