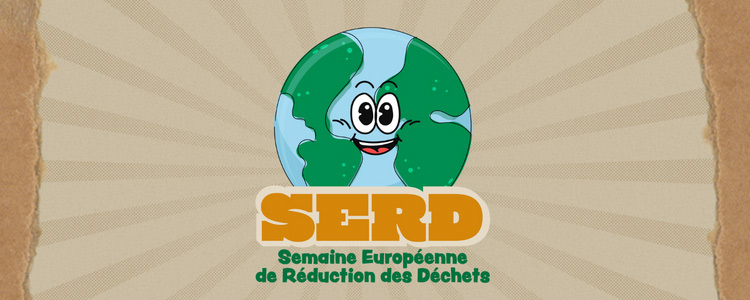 Eco-fashion show, clean walk, creative workshops to make Furoshikis/recycled sponges/ecologicalpurses/beeswax packaging, distribution of sustainable menstrual protection, donation, etc.his year again, the USMB's European Week for Waste Reduction (EWWR) offers you a rich and varied program on your 3 campuses !
Organized at the university from November 21 to 25 by the Student and Campus Life Service, UNITA, the Student Health Service, the Crous Grenoble Alpes and several student associations of the USMB, the EWWR informs you about good practices to consume better, produce better, extend the life of products and especially throw away less!
PROGRAM ON THE BOURGET CAMPUS
This week, among the many maker workshops and animations offered on your campus are:
The "Donnerie" space




monday, tuesday, wednesday and friday - 11h30-13h30 / Bât.6 EVE



Did you know that? The fashion industry is one of the most polluting in the world, emitting more greenhouse gases than international flights and maritime traffic combined. As clothes are sold at attractive prices, we tend to buy more of them than a few years ago and keep them for less time. Your look therefore has a direct impact on the environment! To refresh your wardrobe without heating up your credit card or your planet, take advantage of the free donation service. Clothes, hats, caps, scarves, bags: make your choice among the numerous items collected on campuses and in Crous residences these last weeks!
Want to give a second life to your clothes? You can also drop off your clothes and accessories and exchange them with other items that will be available during the donation.
Furoshiki workshop




Monday, November 21 - 12pm-1pm / Building 6 EVE
Put away your glue and tape, choose the fabric that inspires you and become a master of Furoshiki ! This folding technique, originating from a Japanese tradition that goes back more than 1200 years, is theideal alternative to gift wrapping paper. A rather stylish know-how that allows you to offer your gifts in an original and eco-responsible way. You can even make your furoshiki a gift in its own right by using a scarf for example. No need to come with your fabric, we provide you with everything you need during the workshop.
Recycled sponge workshop




Tuesday, November 22 - 12:00-1:00 pm / Building 6 EVE
Who said that our socks only have one life? With the student association Univert, turn your orphaned socks into real experts in eco-responsible cleaning! This workshop will teach you how to make small washable and reusable sponges, and will change the way you do the dishes. Bring your socks and leave with your sponges!
Sewing workshop


Tuesday, November 22 - 6pm-7:30pm / RU Chautagne
on registration
No more plastic bags, make your own bulk bag! It's an opportunity to recycle the textiles you no longer use.
Bee wrap" workshop




Wednesday, November 23 - 12:30-13:30 / Building 6 EVE
Did you know that thanks to our friends the bees, we can produce reusable packaging? Thanks to the student association Blairoudeurs, discoverthe bee-wrap, an eco-responsible packaging made of fabric and beeswax! Entirely ecological and economical, it allows you to transport and preserve food without using aluminum foil or food film. It is zero waste, almost zero budget and very easy to make. For the workshop, you just have to bring some pieces of fabric, the beeswax is provided!
Distribution of free durable menstrual protection




Wednesday, November 23 - 12:30-1:30 pm / SSE - Building 12A
Every year, more than 45 billion pads and tampons are thrown away worldwide. It takes about 500 years for these products to degrade, which is as long as a plastic bottle. Fortunately, sustainable menstrual protection exists! For the EWWR, the Student Health Service (SHS) is organizing a distribution of menstrual cups and washable pads. No need to register, just come and pick up your pack from the Student Health Relay during the office hours.
Workshop: Green wallet


Wednesday, November 23 - 6pm-7:15pm / RU Crous Chautagne
on registration
If you dream of changing your old worn wallet without breaking the bank, come and make the essential to put in your bag! No need for materials, the Crous provides you with everything you need to design your own eco-friendly wallet.
Awareness stand




Thursday, November 24 - 11:30 a.m. - 1:30 p.m. / in front of building 6 EVE
Waste sorting is a first step to reduce one's carbon impact but there are many others! Fill up with information and good eco-responsible reflexes on the Chambéry Grand Lac stand and leave having learned new eco-gestures to apply on a daily basis to take care of the planet.
Clean Walk




Thursday, November 24 - 1:00 pm - 2:30 pm / Campus du Bourget
Objective: collect a maximum of waste on the campus with the student association Univert! Come in large numbers, we will equip you !
Eco-fashion show




Friday, November 25 - 12:00-1:30 pm /

Building 6 EVE
For the last day of the week on the Le Bourget campus, SVEC rolls out the red carpet at the EVE building! Discover the power of second-hand clothes and the talent of our students during the great eco-fashion show!
Do you have the soul of a fashion designer and have always dreamed of seeing your creations worn on a catwalk? Are you experts or fans of the catwalk and the spotlight? Participate as stylists or models in the fashion show by registering now via this form. No prerequisites required, just your motivation and creativity!
- The role of the stylists will be to create looks from upcycled or second hand clothes.
- The role of the models will be to wear the creations of the stylists during the red carpet fashion show.
If you have any questions please feel free to ask them either by email to SVEC or via the WhatsApp link.
WHAT EXACTLY IS THE SERD?
Coordinated in France by the ADEME (Agency for Ecological Transition), the European Week for Waste Reduction is a "high point" of mobilization during the year to highlight and spread good production and consumption practices that go towards waste prevention.
We talk a lot about the figures of food waste and yet, those of fashion and textile are just as alarming! This is why the European coordination of the EWWR has chosen to commit itself for its 2022 edition, in favor of a circular and responsible textile sector.