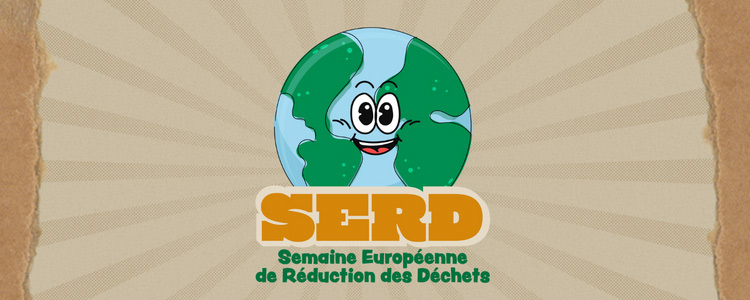 Clean walk, creative workshops to make Furoshikis/make-upremover wipes, Tawashi sponges, distribution of sustainable menstrual protections, donation, etc.ith the distribution of sustainable menstrual protection, a donation, etc., this year again, the European Week for Waste Reduction (EWWR) of the USMB offers you a rich and varied program on your 3 campuses !
Organized at the university from November 21 to 25 by the Student and Campus Life Service, UNITA, the Student Health Service, the Crous Grenoble Alpes and several student associations of the USMB, the EWWR informs you about good practices to consume better, produce better, extend the life of products and especially throw away less!
PROGRAM ON THE JACOB CAMPUS
This week, among the many maker workshops and animations offered on your campus are:
The "Donnerie" space




every day - 11h30-13h30 / Building 20 EVE - room 20 034



Did you know that? The fashion industry is one of the most polluting in the world, emitting more greenhouse gases than international flights and maritime traffic combined. As clothes are sold at attractive prices, we tend to buy more of them than a few years ago and keep them for less time. Your look therefore has a direct impact on the environment! To refresh your wardrobe without heating up your credit card or your planet, take advantage of the free donation service. Clothes, hats, scarves, bags: make your choice among the numerous items collected on campuses and in CROUS residences these last weeks!
Want to give a second life to your clothes? You can also drop off your clothes and accessories and exchange them with other items that will be available during the donation.
Workshop

Furoshiki




Tuesday, November 22 - 12:30-13:30 /

EVE Building 20 - room 20 034
Put away your glue and tape, choose the fabric that inspires you and become a master of Furoshiki ! This folding technique, originating from a Japanese tradition that goes back more than 1200 years, is theideal alternative to gift wrapping paper. A rather stylish know-how that allows you to offer your gifts in an original and eco-responsible way. You can even make your furoshiki a gift in its own right by using a scarf for example. No need to come with your fabric, we provide you with everything you need during the workshop.
Tawashi workshop / Waste sorting awareness stand


Tuesday, November 22 - 18h-19h15 / Residence Crous Nivolet
on registration
A small square of fabric halfway between a washcloth, a washcloth and a sponge, the Tawashi comes from Japan, where the zero waste culture is very developed. The main advantage of this homemade sponge is that it is washable, reusable and made from old clothes or any other fabric you no longer use. Become masters of weaving and recycling by participating in the Tawashi workshop and make your own homemade, economical and ecological sponge that will easily replace a classic sponge.
Sorting your waste is a first step to reduce your carbon impact, but there are many others! Once you have finished your Tawashi, get all the information you need and learn about eco-responsible habits at the Crous stand.
Distribution of free durable menstrual protection




Thursday, November 24 - 12:30-1:30 pm / SSE - Building 12
Every year, more than 45 billion pads and tampons are thrown away around the world. It takes about 500 years for these products to degrade, which is as long as a plastic bottle. Fortunately, sustainable menstrual protection exists! For the EWWR, the Student Health Service (SHS) is organizing a distribution of menstrual cups and washable pads. No need to register, just come and pick up your pack from the Student Health Relay during the office hours.
Clean Walk




Friday, November 25 - 1:00-2:30 pm /

Departure

Building 20 EVE
The goal is to collect as much trash as possible on campus in the shortest amount of time. Come in large numbers, we will equip you !
Workshop to make make-up remover wipes


Wednesday, November 30 - 6:30-7:30 pm / Crous Nivolet Residence
on registration
No need to write "makeup remover pads" on your shopping list anymore! Learn how to make your own washable and resistant wipes, which will allow you to remove the most waterproof of your makeup, and more. No need for materials, everything is provided by the Crous!
WHAT EXACTLY IS THE SERD?
Coordinated in France by the ADEME (Agency for Ecological Transition), the European Week for Waste Reduction is a "high point" of mobilization during the year to highlight and spread good production and consumption practices that go towards waste prevention.
We talk a lot about the figures of food waste and yet, those of fashion and textile are just as alarming! This is why the European coordination of the EWWR has chosen to commit itself for its 2022 edition, in favor of a circular and responsible textile sector.