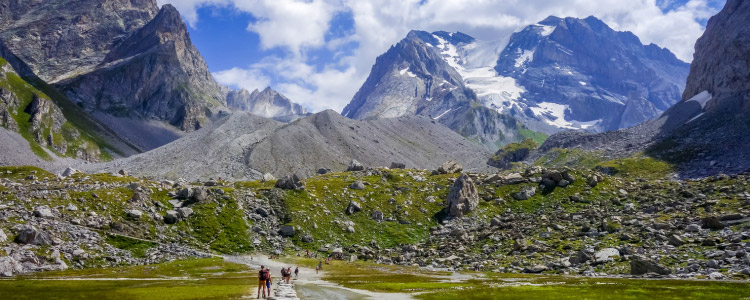 Want to explore the region? Discover the lakes and mountains of the Savoie Mont-Blanc region with the USMB Sports Service (SDS)!
The weekend of October 20 to 22, we take you hiking in the the Vanoise National Park.
COURSE OF THE DAY
A backpacking trip requiring good physical condition, with passages at altitudes of over 2,500m. The Vanoise, Savoie's highest massif, will be the playground for an approach to roaming in the mountains, preparing your own itinerary, orienteering and dealing with altitude.
Presentation by Gwen Masson-Schaeffer: a teacher in the sports department and accustomed to guiding itinerants in remote areas, Gwen will help us prepare our itineraries as a group, combining progression, orientation and first-aid techniques in mountain environments.
Signing up is easy: visit your sports area from September 28.
Please note: places are limited to 15 people, so don't wait to sign up!
PRACTICAL INFORMATION
- Level: hiking requiring good physical condition - 30 to 35 km over 2 and a half days.
- Price: 35 € including transport, supervision and access to the refuge.
- Departure : Friday October 20 at 6pm, from entrance A of the Jacob-Bellecombette campus, return Sunday October 22 at the end of the day.
- Please bring: a tent for 4 people, 1 sleeping bag, a ground sheet, 1 rucksack, a pair of suitable shoes, clothing for rain and cold, personal first-aid kit, meals for the weekend.
Contact: Gwenael Masson Schaeffer