CAMPUS TOUR, 11th SEPTEMBER 2018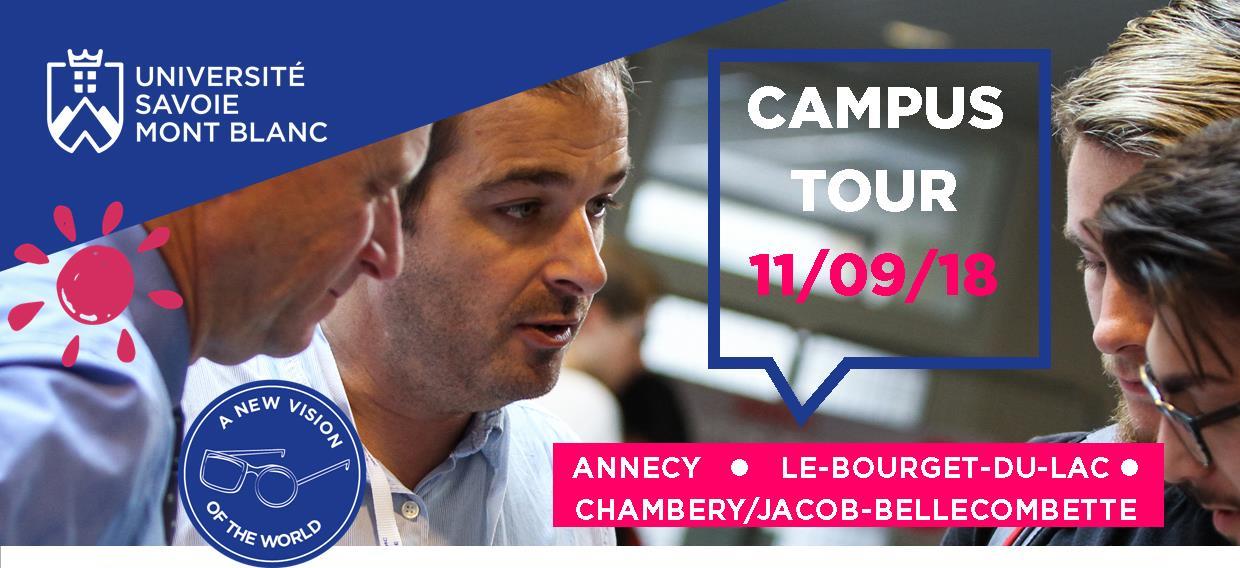 You are a staff from a university abroad and you would like to discover our campuses? You are taking part in the EAIE Conference in Geneva (11-14th September 2018) and you would like to meet us? This CAMPUS TOUR is for you! Other universities who won't take part in EAIE are also welcome. Note that The number of seats is limited and only 2 participants from the same university will be accepted.
When?
On Tuesday 11th Septembre 2018 from 8:30am to 6:00pm.
Program
Visits of the 3 campuses of Université Savoie Mont Blanc and speed-meetings with our staff and teachers. For more information, click on the picture.
How to register?
If you are interested to taking part in the Campus Tour, please register before 25th July 2018 via this form.
STAFF WEEK "Brush up your French in the Alps" (18-22nd June 2018)
A staff week of intensive French language learning and cultural activities.
For all staff of international universities who would like to brush up their French in one of the most beautiful parts of France, and discover the French culture. The number of seats is limited and only 2 participants from the same university will be accepted.
Please note that this staff week is a "french immersion" and is therefore not adapted to absolute beginners.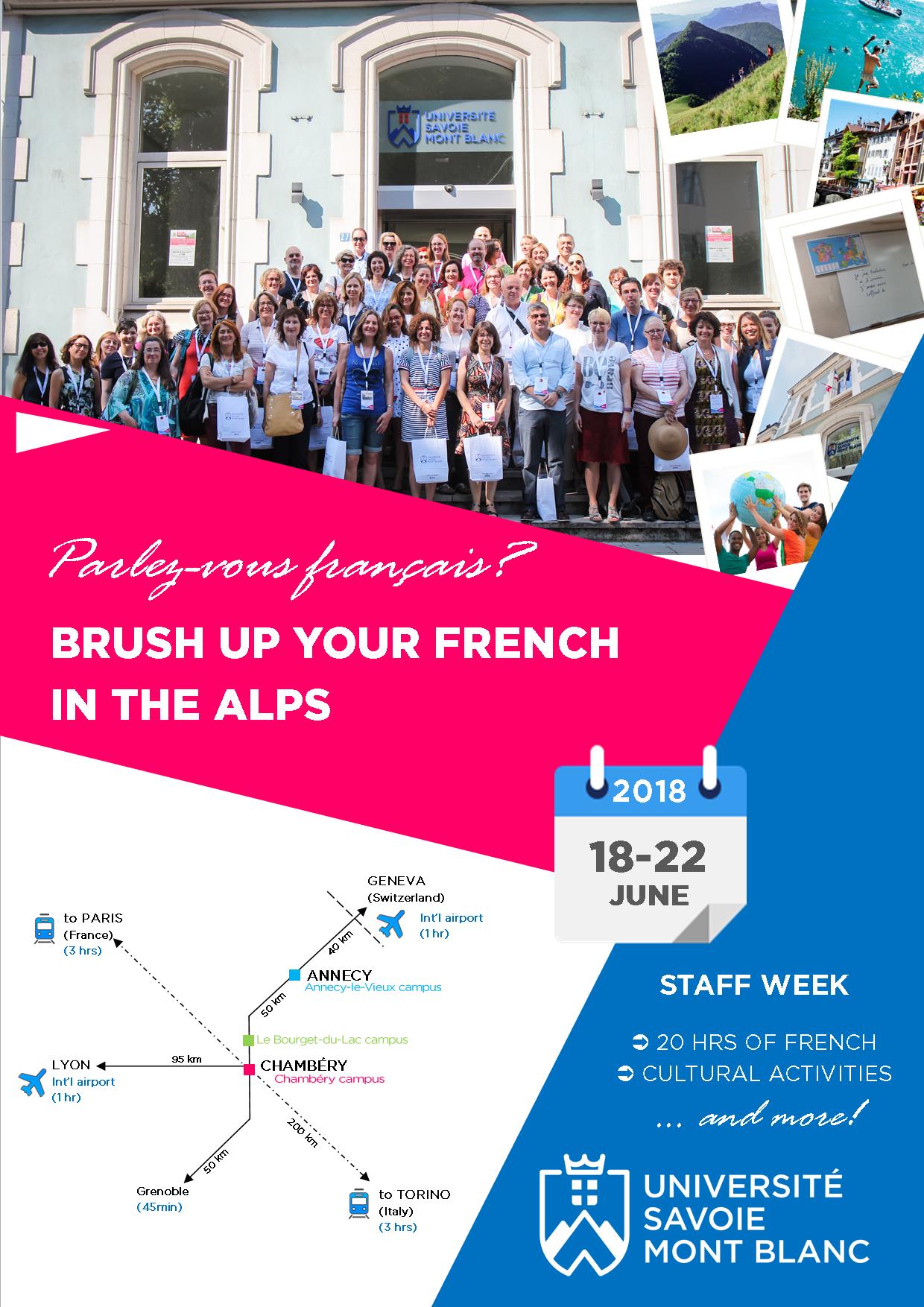 Where? When?
In Chambéry. Several excursions and activities around Chambéry will be organised.
The programme  will start on June 18th (expected arrival of all participants on June 17th) and end on the 22nd (expected departure on 23rd)
Activities
20 hrs of French language, Visits of the historical cities of Annecy and Chambéry, excursions to the mountains and/or lakes;
Price: 220€
INLCLUDED: tuition fees, excursions, 2 dinners
NOT INCLUDED: accommodation (6 nights), transportation to and from Chambéry, meals (lunches and 3 dinners), & all additional personal expenses.
If you wish to attend this staff week please contact us HERE
International week – October 2017
The Université Savoie Mont Blanc organized this autumn its third international week, an event dedicated to international mobility and cooperation projects with foreign partners, this year under the sign of the 30 years of the Erasmus + program. Different types of events were organized on the three campuses of the USMB: conferences on international mobility opportunities for students, workshops for staff wishing to develop existing or create new networks of collaborations, a mobility fair allowing the various actors to meet and exchange and festive moments and conviviality. 67 partners representing 47 institutions from 28 countries with which the USMB and its units have links, have travelled for three beautiful days of meetings or for the entire week. In addition to meetings with the students on the stands, the partners had the opportunity to discover each campus to better understand the organization and operation of the institution, its training units and its laboratories.
"I really enjoyed my time in Savoie, it's a wonderful area. I was very impressed with the facilities on both campuses. It was good to speak with existing Erasmus students & learn from their experiences. I hope to start sending our students to USMB in the near future. It looks like we may expand our incoming/outgoing numbers in the future. Overall you delivered a very professional event & I wish you all continued success & thank you for inviting me."
"I had a wonderful week! Visiting your university, meeting your "dream team" and the participating colleagues from around the world made this international week a fantastic experience. Thank you to everybody involved! I will definitely recommend your university to our students!!"
Staff Week "Brush up your French in the Alps" – June 2017
Last June, the Université Savoie Mont Blanc welcomed about 50 representatives from partner universities from all over Europe (11 countries) to practice French language in Chambéry and discover the exceptional environment of the USMB. Distributed in 5 groups of language levels, the partners had the opportunity to practice their French by discussing, for example, the national higher education system, French culture and traditions, daily life, etc. They also enjoyed the landscapes of the Savoie Mont Blanc territory and its gastronomy. Read more here
« je crois que nous avons tous progressé dans notre connaissance de la langue et la société française, nous avons échangé les experiences de nos universités respectives, tout dans un cadre de convivialité que tous avons beaucoup apprecié. »
News about Master's degree courses for international students
European Master in Business Studies gains EPAS accreditation
IAE Savoie Mont Blanc reinforces the quality of its international programme: EPAS is an international programme accreditation system (operated by EFMD) which aims to evaluate and award the best business and/or management programmes that have international perspective. Our high quality in teaching, already well known internationally, has now been certified with this award of excellence as IAE Savoie Mont Blanc's programme called European Master in Business Studies (EMBS) has gained the EPAS accreditation.
The EMBS is a Master's degree in Management, which has been running for ten years, is a collaboration between four different European Universities: Trento (Italy), Kassel (Germany), Leon (Spain) and IAE Savoie Mont Blanc. All the courses are taught in English not only by research professors but also by specialists straight from the world of business. At the end of their studies, the students who pass their degree will be awarded a joint degree that is recognized in all four countries. Every year, IAE Savoie Mont Blanc receives more than 200 applications from 30 different countries, a growing number that attests of the success of this programme. For further information and promo materials, please feel free to contact us: embs@univ-smb.fr
Launch of a NEW Master in English on Advanced Mechatronics
The Advanced Mechatronics Master, offered by the Annecy-Chambéry Polytech School of Engineering, hosted its first students at the start of the academic year. This training, taught entirely in English, is offered on the Annecy campus. The aim of this Master is to make students able to imagine, design, implement and operate a mechatronic system or product within the framework of research or research and development projects and to prepare them for a doctoral degree.
International Tourism Management Master
IAE Savoie Mont Blanc has started a full Master Spring semester (N°10) taught in English on Tourism Management. This Master' degree is dedicated to applying management and marketing concepts and practice to Tourism with particular attention to innovation. Students will have constant links to the professional world: project-based approach, partnerships, study trips (ITB Berlin…) seminars, lectures, « management games », Work placement etc. Possibility of Double-Diploma with Milano Bicocca, UJRC Madrid…