S3E Master's degree 
Open in 2021
The training combines practice and theory in the fields of solar energy engineering and building physics, computer science, materials science, architecture and urban planning, law, economics and sociology.
The originality lies in the multidisciplinary approach to serve one objective: to enable the large-scale use of solar energy.
The 2-year S3E Master's programme presented here is part of a 5-year cycle, as it is completed by a doctoral programme. The Master's courses address the different aspects of the conversion and use of solar energy in the built environment using solar thermal and photovoltaic technologies, from production to distribution (networks) and including intermittency management. Offering two courses, the S3E Master's degree aims to develop cutting-edge skills in the field of solar energy integration and energy transition.
Education Programs – Year 1-2 / 120 Ects
The S3E Master's degree is divided into two courses:
ESBC : Energy for Solar Buildings and Cities
SoLEM : Solar Energy, Law, Economics and Management
Teaching modalities
Disciplinary and international mobility, immersion in an international research environment are integrated into the curriculum,
From the first year of the Master's degree, close links between students and laboratories will be developed through the organisation of research projects each semester, starting with the analysis of the state of the art and a research projec,
Interdisciplinary project prepared jointly by students from both courses is also planned, as well as the master's thesis. Students are fully integrated into the life of the research laboratories,
Classical courses, tutorials, and also participation in conferences and thematic schools, project-based learning, and publication of project results in the "Reseach Journal of Solar Academy",
Distance learning" courses (videoconference interventions) with the best international specialists in the field in the training.
The courses are in English. In addition, foreign language courses adapted to the needs of the students (English or FLE) will be offered.
MORE ABOUT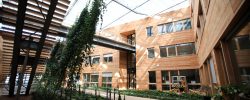 Place: Bouget-du-Lac campus mainly