The LOCIE has a number of facilities and experimental platforms.
Platform Characterization of walls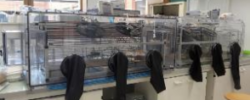 Platform for the evaluation of air treatment processes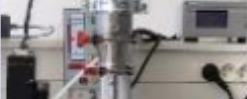 Geothermal Platform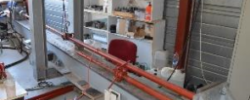 Sorption Platform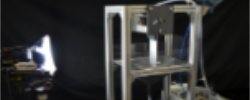 Platform Structure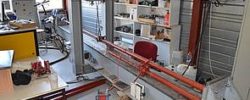 The structural platform of the "Margeriaz Hall" is designed to test the mechanical behaviour of structural elements from 0.4 to 1. It is equipped with several test benches. A horizontal test bench used to stress large parts in tension or compression and a 3.15m wide and 4m high gantry used for different types of tests, bending, shear, tension and compression. The equipment has been designed to ensure that deformations remain low up to 300 kN of force. They can be equipped with various instruments including 2 electric cylinders (2 times 120 kN) and 1 hydraulic cylinder (300 kN). The acquisition equipment also consists of accelerometers and a high-definition camera for image cross-correlation. The whole system is controlled simultaneously by means of a central acquisition unit. This equipment is used to study the quasi-static and vibratory behaviour of masonry walls and connections of reinforced concrete elements in particular. For more information, please click here. For more information.
Analysis and visualization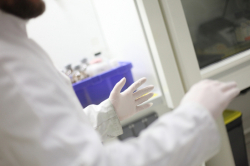 LOCIE's analysis platform consists of various types of equipment designed to assess indoor air quality and to characterise energy conversion processes by biological (methanisation, microbial cell) or physical (organic photovoltaics) means. More information
Other materials
Apart from the LOCIE's specific platform, we share within the University of Savoie an electron microscopy platform, a laser granulometer, a gas chromatograph coupled to a mass spectrometer as well as a set of materials characterization (DSC, DMA, X-ray diffractometer, ...).