The PITON program aims to bring students and companies together to meet the challenges of innovation and digital transformation. It gives you the opportunity to learn and do a paid internship in start-up mode, as part of a multi-skilled student team, enriching everyone's knowledge.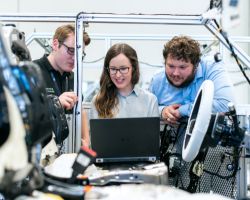 An original and innovative academics program based on student/company projects, the PITON program offers internships in local companies as part of your academics course.
PITON offers around forty internships with companies in the 2 Savoie region in a variety of sectors: outdoor, luxury goods, energy, dermatology, transport, etc.
Each project is based on a company's needs. For several months, you work on a project as part of a multidisciplinary team, made up of 3 to 5 students and company employees.
You work in start-up mode in a dedicated coworking space at the university and/or in a company, putting your knowledge and creativity at the service of the project and your team to come up with a prototype, a viable development, new organizational methods and so on.
Taking the initiative and sharing your ideas will be part of your daily routine. You'll gain confidence in your ability to manage projects, work as part of a team and adapt to change - all essential skills for your future career!
Annecy Campus
Bâtiment 4
Send an e-mail / Tel: 04 50 09 24 63
Le Bourget Campus
Pôle Entrepreneuriat Savoie Technolac, next to building 3 Pôle Montagne
Send an e-mail / Tel: 04 79 75 94 78
3 good reasons to do a piton internship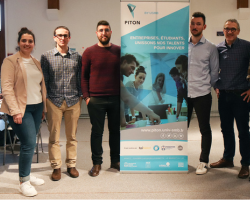 Wondering why you should do a PITON internship rather than a conventional one?
Here are 3 good reasons to join PITON (well, there are more than 3, but we're trying to keep it succinct!).
Concrete projects
Whether it's editing the project schedule, carrying out a benchmark, drawing up specifications or developing a technical solution, the company trusts your team. You are the real players in the project! And your work has a real impact on the company, since it can lead to patents, prototypes and so on.
Teamwork
Each team member is selected by the company for his or her specific skills, which are essential to the project. You are the experts in your field, and you learn from your teammates and from the company employees who make up your team.
USMB support
During your internship, there's always someone from the university to follow you and help your group if you need it. The PITON coordinators are there to help you with any problems or material needs you may have. And every month, the USMB referents provide you with their expertise and their objective view of the project.
They say it best: read the testimonials of PITON student interns from recent years!
The stages of a PITON training course
There are plenty of profiles to choose from!
You must be a student at academics with a Bac +2 to Bac +5 level, in innovative fields such as: IT, industrial IT, instrumentation, marketing, finance, mechanics, materials, environment, construction, energy, business management and administration, multimedia and Internet professions, communication, sports science, etc.