At the USMB, there are 3 ways to combine your academic career with a business start-up project. The Pôle Entrepreneuriat and USMB's partners are there to support you and your entrepreneurial spirit.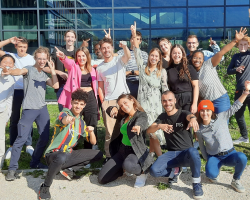 Do you have a real entrepreneurial drive?
With or without a personal project to create your own business, the USMB offers you 3 ways to develop your entrepreneurial spirit and help you get started: the Student-Entrepreneur status, the Student-Entrepreneur Diploma (D2E) and the Entrepreneurship Course.
In 2022, 60 entrepreneurs, students from bac+1 to bac+8, from 8 of the USMB's academics structures, formed the 11th Entrepreneurship class. Among their projects: development of a sensor to measure human activity, creation of an escape game kit, launch of a construction agency and a communications agency, development of a diary for top-level athletes, etc.
Throughout the year, they benefited from free coaching by professional speakers,professional workshops (project management, communication strategy, business law, etc.), meetings with experts (lawyers, chartered accountants, etc.),international schools organized in the Savoie Mont Blanc region and abroad, and a pitch competition.
The entrepreneurship cluster
Throughout the year, the Pôle also offers a wide range of networking, project support, entrepreneurship awareness and training events. These events enable you to get off to the best possible start with your project, or to gain an initial insight into the world of entrepreneurship.
For more information, please contact our team! We will be happy to answer all your questions.
Annecy Campus
Mont-Blanc" coworking room - IAE building
Send a mail
Campus du Bourget
Building 8C - Office 255
Send an e-mail / Tel: 04 79 75 94 21
The Idea Challenge: a regional competition for the best student idea
"I love my Boss, that's me!"
Shared lunches: an informal lunch between student-entrepreneurs and a professional for a special moment (contact us).
Pitch Live" and "Energy pitch" competitions: an opportunity to pitch an idea or project to a panel of experts.
BarCamp breaks: information on campus from 12pm to 2pm 
Web conferences and roundtables organized throughout the year
Student entrepreneurship" and "Be a boss" webinars
Real Business Game: a life-size game with 2 Savoies entrepreneurs
Summer school: a 3-day seminar focusing on renewable energies and entrepreneurship
The national student-entrepreneur status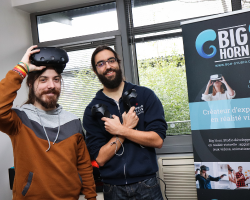 Do you have a business start-up project in mind? The student-entrepreneur status will provide you with the skills and resources you need to build your project over the course of a year. 
You can obtain this status either during your studies, or if you already have a degree (minimum level baccalauréat or equivalent, French or foreign).
personalized support from professional and university tutors
networking with players in the entrepreneurial ecosystem (support, financing)
access to numerous events organized by Pépite oZer, the USMB entrepreneurship cluster and its partners
access to the coworking space
access to USM's entrepreneurship program
expert vouchers to meet a specialist
The student-entrepreneur diploma
Created to enhance your career as a student-entrepreneur, this diploma accompanies the student-entrepreneur status with a personalized and dedicated academics qualification in entrepreneurship and project management. It favors learning by doing, and is based on digital teaching resources. This diploma enables you to carry out your project with maximum security and visibility.
Who is it for? All students with a business start-up project, whatever its nature or stage of development. The student-entrepreneur diploma (D2E) is compulsory for recent graduates and those with a baccalaureate to qualify for student status and related benefits (grants, social security, access to housing, catering). It is also compulsory for students at the end of their studies (L3 without continuation, M2, Doctorate).
The difference between the student-entrepreneur status and the student-entrepreneur diploma
With the Diplôme d'étudiant-entrepreneur, you have all the advantages of student-entrepreneur status, plus other privileges linked to your D2E.
accommodation in a partner incubator, Savoie Technolac or Galiléo, with access to all its events
supervision by a teaching tutor in addition to a professional tutor
a reorganization of studies: the possibility of substituting the entrepreneurial project for an internship or end-of-study project
access to training courses offered by the USMB and its partners
access to the USMB entrepreneurship program
the experts' afternoon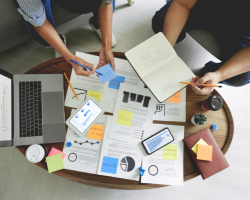 It's a semester of free training and coaching with speakers from the business world who specialize in project management, business planning, market research and one-to-one coaching.
academics takes place over 6 months, on Thursday afternoons in 3-hour modules, from September to January, on the Bourget-du-Lac or Annecy campuses.
The Entrepreneurship Pathway is open to all students from bac to bac+8, with or without a personal project to set up a business, but with a real motivation and desire to become an entrepreneur.
networking with players in the entrepreneurial ecosystem, enabling you to acquire skills and knowledge and confirm your project
accommodation in a partner incubator, Savoie Technolac or Galiléo, with access to all its events
support for your project from the incubator's expert partners
access to 15 workshops led by business start-up experts
KEY STEPS TO REGISTRATION