Want to get moving? The Sports Department (SDS) offers over 40 sporting activities and numerous outdoor outings to discover the Savoie Mont Blanc region (hiking, downhill skiing, via ferrata, climbing, etc.).

You can also take advantage of multi-day discovery courses (kayaking, sailing, tennis, skiing, hiking, climbing, etc.) and sports nights on your campus (volleyball, badminton, handball nights), and don't hesitate to share your best moments on Instagram by tagging USMB!
Register for sports activities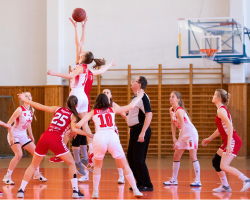 Climbing, hiking, swimming, aikido, zumba, fitness, basketball, yoga and more! With Service des Sports (SDS), you've got plenty to keep you moving! 
Choose from the wide range of activities offered by SDS and sign up for the 1st and 2nd semesters, choosing the sport that suits you best.
Watch out, it's time to go!  
Wednesday September 6Registration is open for the 1st hike of the year to discover the Lac de la Thuile in the Massif des Bauges (coming soon on theCampus Calendar).
Thursday, September 7Registration opens for 1st semester activities. Classes start on Monday September 11.
In collaboration with the Student Health Service, the SDS offers you Wellness workshops throughout the year.
But why exercise?
Well, because beyond allowing you to let off steam and get rid of excess energy, sporting activities are recognized as essential factors in the prevention and treatment of a large number of chronic diseases.
Not only are you doing your body good, you're doing your brain good too! Sport has beneficial effects on sleep, stress, anxiety, a sense of personal mastery and control, and boosts self-esteem. It's also an opportunity to meet other students and make new friends!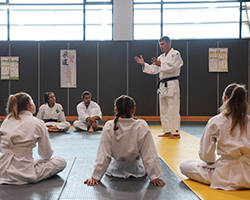 At the USMB Sports Department, you have the choice of practicing a sporting activity independently, in academics (noted) or competitively.
Whether you're a beginner or an expert, you're bound to find the sport and type of practice that suits you best. 
Practical info: a medical certificate of non-contraindication is not required for non-competitive sports.
At academics (rated or unrated) 
At academics, your practice is supervised by an SDS teacher who helps you to progress in your practice, develop your skills and achieve your objectives. 
By practicing at academics, you can earn credits (ECTS), provided that the sport is included in your studies (optional or bonus UE) and that you choose it when you register.  
On your own
For independent practice, SDS gives you access to several rooms and equipment (weight benches, basketballs, volleyballs, badminton rackets and shuttlecocks, etc.) outside teaching hours and sports meetings. Relais Sport students are on hand to welcome you and guide you in your practice. 
In competition
Represent your department or university in university sports competitions! To take part in regional or national university championships, all you need to do is join the Fédération Française de Sport Universitaire and obtain your FFSU license from the Association Sportive de l'USMB. 
The competitions, whose calendar is drawn up each year by the FFSU, generally start in November and take place on Thursday afternoons.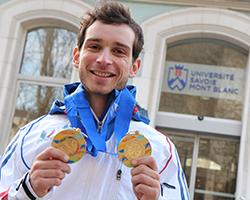 To make the most of sport during your studies, the Sports Department and the USMB have put in place special arrangements to suit your profile as a student athlete.
Because it's important to be able to reconcile your life as an athlete with your life as a student!
Disabled athletes
The university supports disabled students in their university sports activities, with a wide range of adapted courses.
In partnership with the Mission Handicap, SDS offers you the opportunity to individualize your chosen sport by providing adapted and personalized coaching based on your disability, as well as easier access to sports facilities.
Top athletes
Perrine Laffont, Clément Noël, Oscar Lombardot, Tess Ledeux, Chloé Trespeuch, Loana Lecomte, Christophe Lemaître, etc. What do all these champions have in common? They have all benefited from the USMB's Sportif de Haut Niveau status! 
Every year, almost 400 athletes study at our university. Depending on your level of competition, you may be able to benefit fromspecial study arrangements to reconcile your sporting activities with your studies. 
Share your daily life as a SHN, training or competing by tagging USMB in your Instagram posts and stories! We'll be happy to relay your exploits to the whole USMB community.