To revise, work or read, visit the USMB University Libraries (BU)! Located on all 3 campuses, the BUs offer a multitude of services and access to a wide range of books, both online and on loan. 
A PLACE TO WORK AND RELAX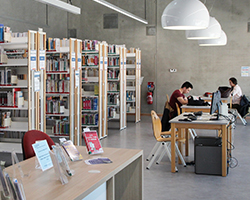 "Shh!" As you enter the University Libraries, you enter a quiet space conducive to concentration and relaxation.
At reception, librarians are on hand to provide information and guide you in your documentary research.
To ensure that everyone can work in the best possible conditions, we offer a range of work areas. For example, you can reserve booths and rooms for solo, duo or group work, all equipped with a whiteboard and/or flipchart and an interactive touch screen to share your ideas.
You can also take advantage of the relaxation areas to read the latest volume of your favorite saga, and take time to discover the exhibitions on display or attend cultural events throughout the year.
All year round, the BUs adapt to the pace of your studies: extended opening hours are offered during exam revision periods.
Find all the practical information (opening hours, contacts) and services of your BUs on the USMB Libraries website.
Please do not hesitate to contact the BU teams for : 
practical information, questions about BU services and collections
help with documentary research 
report a technical problem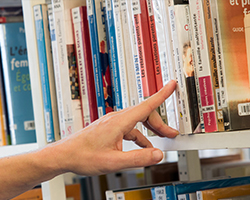 Access all the printed (books, maps, DVDs, periodicals, etc.) and digital (online journals, ebooks, etc.) documentation of the BUs and associated libraries of the USMB in the BU Catalogue. 
This is where you can explore your libraries' physical and digital collections and borrow what you need or want!  
Print, scan or bind documents
BU offers a range of courses on documentary research methodology and bibliography management (citing sources, avoiding plagiarism, writing a bibliography, publishing your dissertation, formatting your work, etc.).  
An invaluable aid for writing your university papers, available online on the BU Moodle.