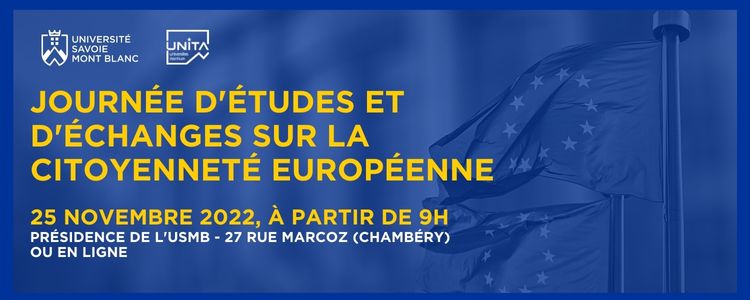 The 2nd study and exchange day on European citizenship will take place on November 25, 2022 from 9am to 5:15pm at the Presidency of theuniversité Savoie Mont Blanc (USMB). Open to all upon registration, it will be led by a dozen specialists from the USMB and otherUNITA member universities. The event will also be broadcasted live. 
The interventions, varied, will relate to the European citizenship, but also on the history of the European construction, the European right, the crisis of the State of law, the fundamental rights, the environment, the migrations...
Philippe Galez, President of the USMB, and Alfonso De Salas, former Head of the Division of Intergovernmental Cooperation on Human Rights and Secretary of the Steering Committee for Human Rights at the Council of Europe, will open and close this meeting.
Registration is required to attend the conference in person and via webcast. The replay link will be sent to registered participants at a later date.
To know more about it