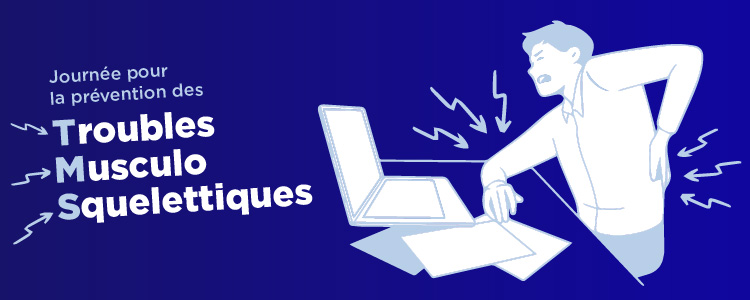 Theuniversité Savoie Mont Blanc organizes a day of prevention around Musculoskeletal Disorders (MSD) on Thursday, October 20, 2022 from 9:00 am to 5:30 pm on the campus of Annecy (in the morning in the premises of Polytech and the afternoon in those of the IUT).
This event, which is part of the university's prevention action program, is intended for all Annecy staff. The purpose of this day is to inform about what an MSD is, why the office set-up can encourage the occurrence of MSDs and what techniques can reduce the effects of MSDs.
The prevention department and the occupational medicine department will accompany the staff to :
identify MSD hazards related to their workstation set-up and help them find solutions to eliminate or reduce them;
inform about the means deployed at the university to adapt the workstation in an ergonomic way.
On the agenda
During this half-day, different actions are proposed:
Conference (30 min): Introduces the USMB prevention day, by presenting the main principles of ergonomics at the workstation. This session will be led by the occupational medicine department, the prevention department and the MGEN. The 9:00 am lecture is offered remotely via Teams (link sent by email) and recorded.
MSD Prevention" workshop revisited by WHERGO (duration 1 hour): Through a scientific, friendly and fun approach, this workshop allows to materialize and understand the appearance of tensions and pains linked to certain postures at work, with the help of sensors, and gives the keys and tips to prevent or reduce them.
Sitting massage session (duration 20 min): In a calm atmosphere, a professional offers you a relaxing sitting session to release tensions caused by repeated bad postures, or by stress and fatigue. (Attention, very limited places)

Self-massage workshop (duration 45 min): In a calm atmosphere, a professional offers you a relaxation session, combining self-massage techniques and breathing exercises, with the aim of adopting better gestures and postures at work and preventing or reducing the onset of tension and pain linked to MSDs.

Given the limited number of places and in order to organize the event as well as possible, it is strongly advised to register:
[Register online]
A sign-in sheet will formalize the registrations with the cell academics.
Departmental visits: The occupational medicine department and the prevention department, reinforced by students in the Master's programme in Ergonomics (EIPA), will carry out parallel departmental visits on the sites concerned: lasting a maximum of 20 to 30 minutes, a typical ergonomic installation at the workstation will be offered as a demonstration to the staff present. The heads of departments will be asked to organise these visits in advance.
USMB stand: To find all the information concerning the loan of ergonomic equipment at the USMB, the testing of workstations with ergonomic equipment, financing and other procedures.
MGEN stand: MGEN will be present on each half-day. Each staff member will be able to benefit from the services offered by MGEN: social security affiliation request, membership request or change of situation declaration, as well as other MGEN services (providence, housing, life insurance, retirement savings, etc.)
From 8:30 am in the Polytech building and from 1:30 pm at the IUT in Annecy (details to be announced).
Actions
In the premises of Polytech (morning)
In the premises of the IUT Annecy (afternoon)
TMS Conference (30 min)

9.00am to 9.30am

Boardroom B212 of Polytech(capacity: 35 people)

Visio Teams

14:00 to 14:30

Amphi H001

Stands (equipment loan)

9:30 am to 12:00 pm

Boardroom B212 of Polytech

2:30 to 5:00 pm

Amphi H001

MSD Prevention Workshops revisited (1h)

9:30 am to 12:30 pm

Room C204 Polytech

2:30 to 5:30 pm

Room H252 at the IUT of Annecy

Individual seated massages (20 min)

9:30 am to 12:30 pm

Room A022 Polytech

2.30 to 5.15 pm

Room H242

Self-massage workshops (45 min)

9:30 to 10:15 a.m.

Room A022 Polytech

2.30 to 3.15 pm

Room H242

Service visits (30 min)

At Polytech and IAE (morning)

Solicitation by mail of the heads of department / component to register from 9:30 am to 12:00 pm and from 2:30 pm to 5:00 pm

At the IUT of Annecy and at the BU (afternoon)

Solicitation by mail of the heads of department / component to register from 9:30 am to 12:00 pm and from 2:30 pm to 5:00 pm
The next USMB day on MSD will be organized on the Bourget-du-Lac campus in May 2023.
To know more about it