Are you a student or future student with a disability?
The good news is that in higher education, the implementation of study and examination arrangements is simplified.
La Cellule d'Accueil et d'Accompagnement des Etudiants en Situation de Handicap (Welcome and Support Unit for Students with Disabilities) (C2AESH), is dedicated to the individualized accompaniment of all students with special needs in their journey through academics and their student life.
WHO CAN BENEFIT FROM STUDY AND EXAM ACCOMMODATIONS?
All situations of disability can be examined.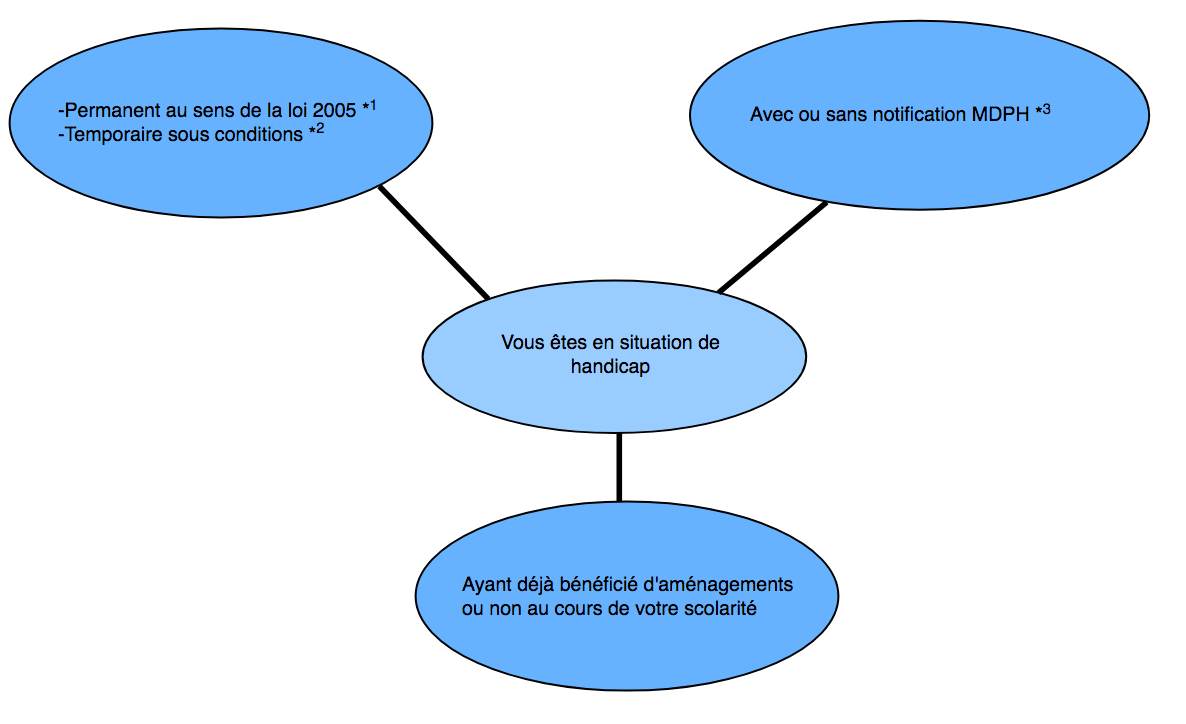 *Reminders
Any limitation of activity or restriction of participation in society suffered by a person in his/her environment due to a substantial, lasting or permanent impairment of one or more physical, sensory, mental, cognitive or psychological functions, a multiple disability or a disabling health problem constitutes a disability, within the meaning of the 2005 law.
The C2AESH can help you implement temporary arrangements for a maximum of one month if the request is made at least 3 weeks in advance for exam arrangements.
WHAT STEPS TO TAKE TO BENEFIT FROM ACCOMMODATION?
Before you register at USMB

At first, when you want to use the ParcourSup application during your senior year, or during your university studies, we invite you to contact the C2AESH who, according to your needs, will guide you in your steps and can offer you a campus visit (Annecy-le-Vieux, Bourget-du-Lac or Jacob-Bellecombette).
As soon as you register at USMB
Then, as soon as you have registered with the school on site (payment of university fees and issue of your student card), you can, if you wish , make yourself known to the Student Health Service or to the Cellule d'Accueil et d'Accompagnement des Étudiants en Situation de Handicap (Welcome and Support Unit for Students with Disabilities).
Student Health Services - Contact details of the ESS Secretariats
You will be interviewed by an ESS physician who, after reviewing your medical file, will assess your needs and write a plan of recommended study and examination accommodations. These accommodations may facilitate your studies at the university.
CAUTION: If you require study and/or examination accommodations, the expertise of an ESS physician is essential.
For information: ESS doctors are authorised by the Commission des Droits à l'Autonomie des Personnes Handicapées (CDAPH) of the Maison Départementale des Personnes Handicapées (MDPH).
The C2AESH - Mail (to be preferred): mission.handicap@univ-smb.fr - Tel: 04 79 75 91 56 / 04 50 09 24 96
Véronique FORESTIER-MERCIER and Fanny DEYDIER: referents handicap, we will be pleased to welcome you for an interview in the perfect respect of confidentiality, at our offices in Paris. offices on the three campuses of the university.
You will be able to meet us at any time during the university course according to your needs.
TOOLBOX OF THE PROPOSED ARRANGEMENTS
Study facilities

Specific hardware (PC, software)
Adapted furniture
Recovery of course materials
Assistance of a teammate for movements, manipulations and temporo-spatial location
Adaptations of study materials: Braille transcription, enlargements of course materials
LPC (Full Spoken Language) coding, LSF (French Sign Language) interpreting
Development of the curriculum of academics, timetables, nomadism of the TDs...
Educational support
Teacher tutoring...
Examination facilities

Increased composition time (1/3 time) for the written tests and preparation of the oral tests
Assistance of a secretary
Isolated composition room
Use of specific computer equipment
Adaptation of exam subjects (enlargement, Braille subjects...)
Adaptation of tests...