From October 7 to 17, 2022: come and meet the researchers of the USMB!
Manipulate, test, take part in laboratory visits, talk to researchers, discover research jobs and stimulate your taste for science! The Fête de la Science consists of thousands of free activities throughout France. On this occasion, science takes over public places and researchers come to meet you.
This year, the Fête de la science has chosen to bring together all lovers of knowledge around an issue that is central to the concerns of citizens and public authorities: climate change.
The animations will take place subject to the sanitary conditions related to the epidemic of the Coronovirus (COVID-19) and in respect of the safety instructions in force in the place hosting the event. 
On the agenda
IN SAVOIE

MEET THE RESEARCHERS OF THE USMB



Tuesday, October 11, 2022 - 18h - Conference - Presidency of theUniversité Savoie Mont Blanc, Chambéry
Mineral resources in transition: between crisis and sustainability
By Marie Forget and Magali Rossi, lecturers at the Laboratoire Environnements, Dynamiques et Territoires de Montagne (EDYTEM)
Saturday 15 and Sunday 16 October - Village des Sciences - from 10am to 12:30pm and from 2pm to 6pm

- Le manège, Chambéry

How can our buildings adapt to the climate transition?
By the Laboratoire prOCédés énergIe bâtimEnt (LOCIE)

Human - Machine Interface: control of a robot by muscle contraction.
By the Laboratory of Motor Biology (LIBM)

FUTOURISM, the future of tourism in Auvergne-Rhône-Alpes

By Pascale Balland, in charge of Scientific and Technical Culture

Sunday, October 16 - from 5 to 5:45 p.m. - Conference - Village des Sciences - Le Manège - Chambéry

To live well with global warming, one solution: air conditioning?
By Nolwenn Le Pierrès, university professor at the Laboratoire prOCédés énergIe bâtimEnt (LOCIE)

Saturday 8 and Sunday 9 October 2022 - Village des Sciences - Campus d'Annecy

-
The science village, as every year, will include various demonstrations and conferences from Saturday to Sunday evening. The village under the sign of the energy transition will open its doors with an introductory conference on hydrogen. Various demonstrations, 3D printing, vacuum manipulation, will be offered to visitors on Saturday and Sunday.
Animation "the emotion of discovery

By the troop "les petits Escholiers

Pepper animation and discovery game
Thursday, October 13, 2022 - Show - Cafeteria IUT, Annecy campus

- 6:30 pm to 7:30 pm
The Neutrino Passoire
A dance and particle physics show by the Berdahi association and researchers Iro Koletsou and Laura Zambelli from the Annecy Laboratory of Particle Physics.
from 18 years old
Saturday 15 and Sunday 16 October 2022 - Exhibition and workshops - Bonlieu Exhibition Forum, Annecy

- 1pm to 6pm
Scientists' words
Workshops and open discussions with LAPP scientists in the middle of the exhibition "The Sketchbook and the Collider" by artist Ian Andrews
The objectives of the science festival
Every year, the Fête de la Science provides an opportunity to discover, understand, experiment, and debate the relationship between science and society, to explore the technologies of today and tomorrow, and to bring science closer to citizens. The Fête de la Science combines science and culture in an attractive way, allowing visitors to discover the extraordinary wealth of scientific disciplines and illustrating the major contributions of science to society and its new challenges.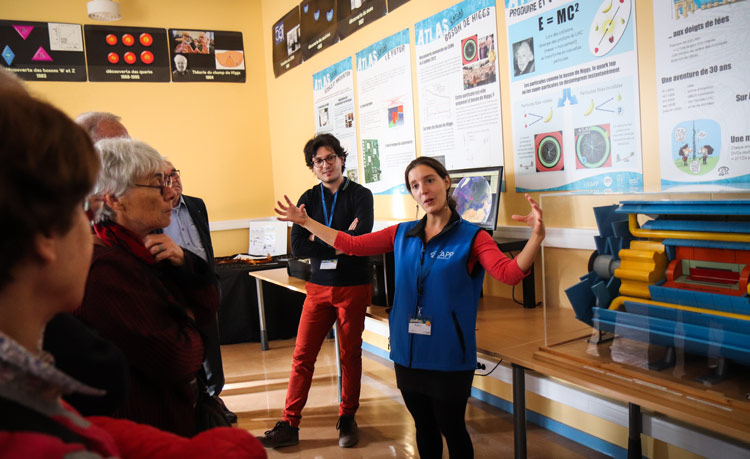 Researchers fromuniversité Savoie Mont Blanc share and exchange with the public
Foruniversité Savoie Mont Blanc, the Fête de la Science is an opportunity to raise awareness of its research areas and its role in society. The meeting with high school students also allows us to raise awareness among young people and to develop an interest in science in general and in scientific studies and careers.
Every year, the university's staff, teachers, researchers and professors enthusiastically invest in sharing their passion for science with the general public.
For the 2022 edition, theIUT of Annecy, Polytech Annecy-Chambéry and 4 laboratories of theUniversité Savoie Mont Blanc invite you in Savoie and Haute-Savoie within the framework of the actions deployed in collaboration with the Turbine sciences (Haute-Savoie) and the Galerie Eurêka (Savoie):
To know more about it
Contact atuniversité Savoie Mont Blanc : Pascale Balland, in charge of Scientific and Technical Culture