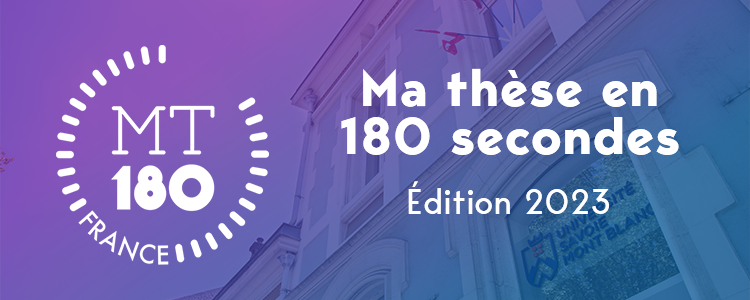 This year again, theuniversité Savoie Mont Blanc (USMB) is participating in the Ma thèse en 180 secondes (MT180) adventure. This unique scientific popularization exercise consists, for the PhD candidates, in presenting the subject of their thesis in only 3 minutes.
Six doctoral students from the USMB will take part in the local pre-selection which will take place on Thursday, February 23, 2023 from 2:00 pm at the IAE Savoie Mont Blanc, amphitheatre 12 on the Annecy campus.
Two of them will then be selected to participate in the pre-final that will take place in Grenoble on March 21, 2023.
Thestudent theater association TRUC will also be present to provide entertainment during the jury's deliberation.
LEARN MORE