Doctoral students, engineers, teacher-researchers, researchers... discover those who make research at the USMB and their discoveries!
Portraits of researchers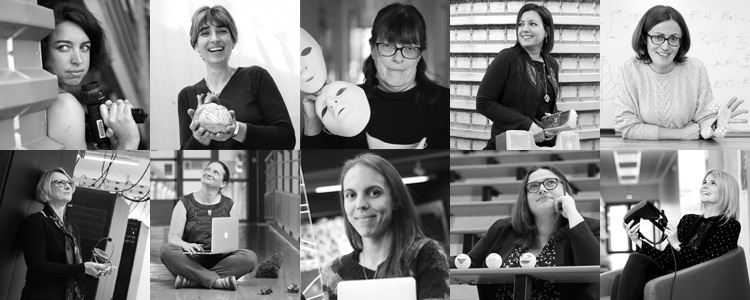 Spotlight on the women researchers of theUniversité Savoie Mont Blanc (USMB) "Women of Science" through an exhibition of black and white photos. This exhibition aims to highlight the USMB's female researchers through their work and the richness of the research themes explored at the USMB.
Discover these 23 women researchers who testify to the place of women in the research profession today
---
Discoveries

---
Awards

University Institute of France
The Institut Universitaire de France was created in 1991 to encourage academics to achieve excellence, to contribute to the feminization of the research sector and to strive for a balanced distribution of university research in the country. It brings together a group of researchers elected for 5 years, after analysis of their application and their project by an internationally renowned jury.
Christophe Quézel-Ambrunaz and Pascal Hot have been appointed members of the Institut Universitaire de France (IUF) with effect from October 1, 2019, for a five-year term.
Laurent Messonnier
has been appointed senior member of the Institut Universitaire de France (IUF), for the Innovation Chair, effective October 1, 2023, for a period of five years.
The CNRS medals
Each year, the CNRS awards medals to researchers and agents who contribute, through their work, to the influence and progress of research and the reputation of the institution. Seven types of medals are awarded. To name but two, the bronze medal rewards a researcher's first work and the innovation medal honors exceptional research.
Honorary Doctorate
Since its creation in 1918, the honorary doctorate has been one of the most prestigious distinctions awarded by universities to honour personalities of foreign nationality for outstanding services to science, literature or the arts, to France or to the university.
Since its creation in 1979, USMB has honoured sixteen personalities, including two Nobel Prize winners, in various disciplines: art, literature, humanities, law, basic sciences and economics.
Ulla TØRNÆS
Former Minister, former Member of the European Parliament, Danish MP
[Relive the ceremony of awarding the honorary doctorate of the USMB to Ulla Tørnæs, 26 November 2019]
Claudia Lima MARQUES
Professor of Private Law at the Federal University of Rio Grande do Sul in Porto Alegre (Brazil)
[Relive the ceremony of awarding the honorary doctorate of the USMB to Claudia Lima MARQUES, 11 July 2019]
Gianmaria AJANI
Rector of the University of Turin
[Relive the ceremony of awarding the honorary doctorate of the USMB to Gianmaria AJANI, 15 February 2019]
Yves FLÜCKIGER
Rector of the University of Geneva
[Replay the ceremony of awarding the honorary doctorate of the USMB to Yves FLÜCKIGER, 15 February 2019]
Fabiola GIANOTTI
Director General of CERN
[Replay the ceremony of awarding the honorary doctorate of the USMB to Fabiola GIANOTTI, 27 November 2018]
Marcel JEAN
Artistic Director of the Annecy Animation Film Festival and Director General of the Quebec Film Library, Quebec, Canada
[Relive the ceremony of awarding the honorary doctorate of the USMB to Marcel JEAN, 16 June 2018]
Jean ZIEGLER
Member of the Advisory Committee of the United Nations Human Rights Council, Geneva, Switzerland
Ghislain BOURQUE
Rector of the Université du Québec à Trois-Rivières, Quebec, Canada
Robert ENGLE
Nobel Prize in Economics in 2003, University of California at San Diego, USA
Carlo RUBBIA
Nobel Prize in Physics in 1984, CERN, Italy
Norberto BOBBIO
Professor of Philosophy, University of Turin, Italy
Rubini SOERIA-ATMADJA
Professor of Geology, Bandung Institute of Technology, Indonesia
Keba MBAYE
Lawyer, former President of the Supreme Court of Senegal, Dakar
Erwin PARTHÉ
Professor of Chemistry, University of Geneva, Switzerland
Spyros CALOGEROPOULOS STRATIS
Professor of Law, former Rector of the Schools of Political, Economic and Commercial Sciences of Athens, Greece
Lionello SOZZI
Professor of Letters, University of Turin, Italy