Theuniversité Savoie Mont Blanc aims to promote a university environment that is more favourable to the well-being of students and staff, regardless of sex, gender or sexual orientation. One of the key elements of this ambition is to implement a firm and appropriate response to sexist and sexual violence and all forms of harassment and discrimination (sexist and LGBTphobic).
Initiated in 2016, this approach resulted in the adoption of a multi-year plan (2021-2023) enabling the institution to commit to a voluntary policy aimed at establishing a dynamic of equality between women and men and fighting against sexist and sexual violence.
SUMMARY
Invisible anchor not to be erased
Reporting platform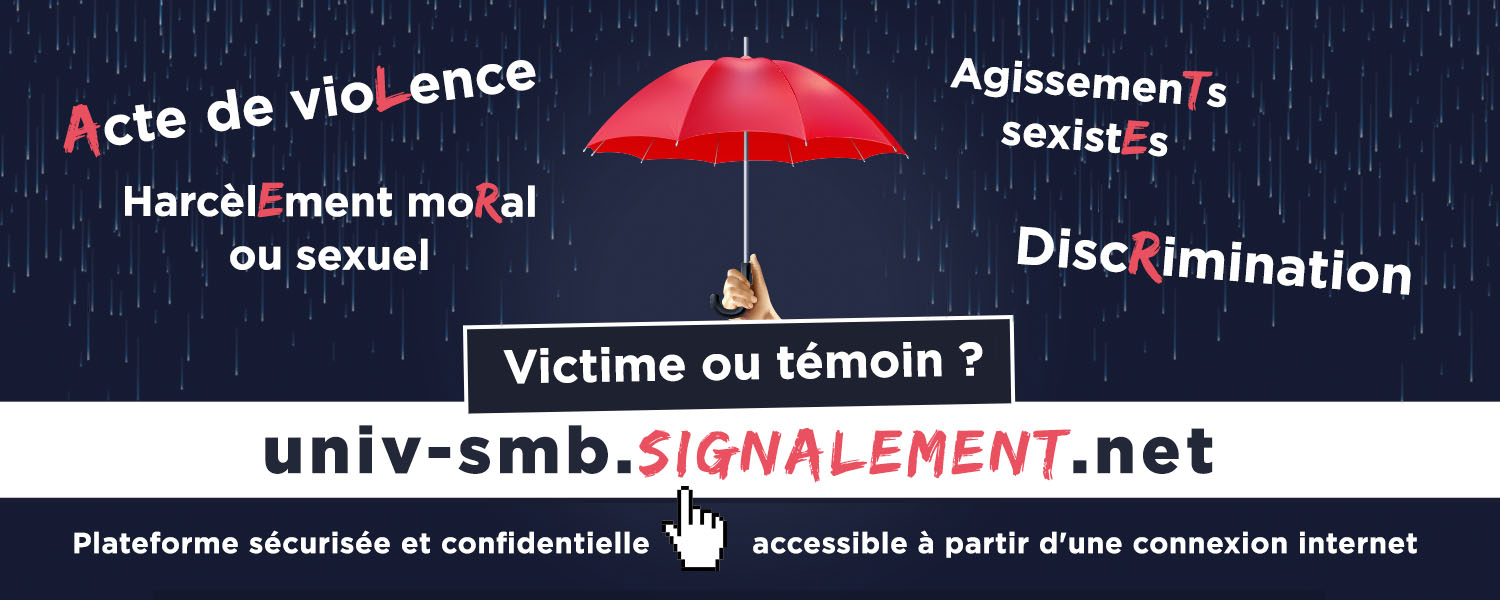 If you are a victim or witness of an act of violence, discrimination, moral or sexual harassment or sexist behaviour, go to the USMB reporting platform (secure and confidential online platform).
It is accessible to USMB students and staff.
[Learn more about how the reporting platform works]
With the support of the Auvergne-Rhône-Alpes Region.

Multi-year action plan on gender equality in the workplace
The 2021-2023 action plan of theuniversité Savoie Mont Blanc reinforces the institution's commitment to professional equality between women and men. The USMB hopes that the deployment of this plan through concrete actions will contribute to the reduction of professional inequalities between women and men who work for the institution on a daily basis.
The USMB's action plan is structured in five areas:
Governance of the professional equality policy
Assessing, preventing and addressing pay gaps creating conditions for equal access to professional responsibilities
Improvement of the conditions for equal access of women and men to bodies, grades and jobs
Work-life balance
Combating sexual and gender-based violence, harassment and discrimination
[Download the USMB Multiannual Action Plan for Professional Equality (pdf)
Useful resource :
--
---
USMB Charter on communication without gender stereotyping
---
Video on consent
---
National Campaign "Stop Gender-Based Violence in Higher Education

A reception and listening unit to combat sexist and sexual violence has been set up.
To contact this unit, dial 3919 (a free, specialised telephone number that guarantees anonymity)
All the videos, spots and testimonies are also available on www.stop-violences-femmes.gouv.frThe website is a reference site for victims and professionals, with many useful resources (key figures, communication kit, useful contacts, legal information, etc.). The site has been enriched with a " I am a witness " section to help anyone react to situations of gender-based and sexual violence.
More information on the following websites:
---
Annual video contest "Shoot the discriminations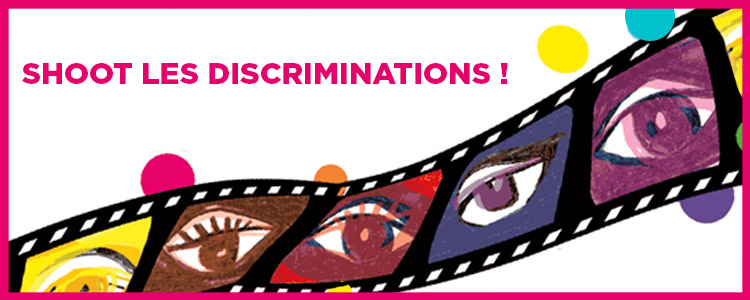 Discriminatory phenomena are built on the refusal of otherness, on the denial of differences or on processes of domination of one race over another, one social class over another, one sex over another. The "Shoot the Discriminations" video competition, organised every year, aims to decipher sexist discrimination , linked to gender, identity and sexual orientation.
---
A participatory approach to equality, equity and diversity
The USMB is committed to promoting a university environment that is more conducive to the well-being of students regardless of their sex, gender, sexual orientation and disabilities.
By studying the reality at the USMB and by carrying out information and awareness-raising actions, the university wishes to build a shared reflection with the different university actors in a positive and benevolent perspective of the student environment.
This project has two major components:
1 - The study of the realities of sexual and gender-based violence, harassment and discrimination within the USMB through two actions:
A survey on the issues of sexual health and gender-based violence (GBV) in order to establish the state of play at the USMB, assess the needs of students and think about the most appropriate actions to implement.
Carrying out exploratory walks on the Jacob-Bellecombette campus in order to better appreciate the appropriation of public space by students and the resulting feeling of tranquillity and security.
2 - The implementation of awareness-raising actions, in particular within the framework of the Festival Plus d'Égalité. The objective of this festival, built in a participative way with the different university services, is to raise awareness among students about differences, to allow expression and debate around these subjects and finally to inform about existing resources.